2019 Camp Card Program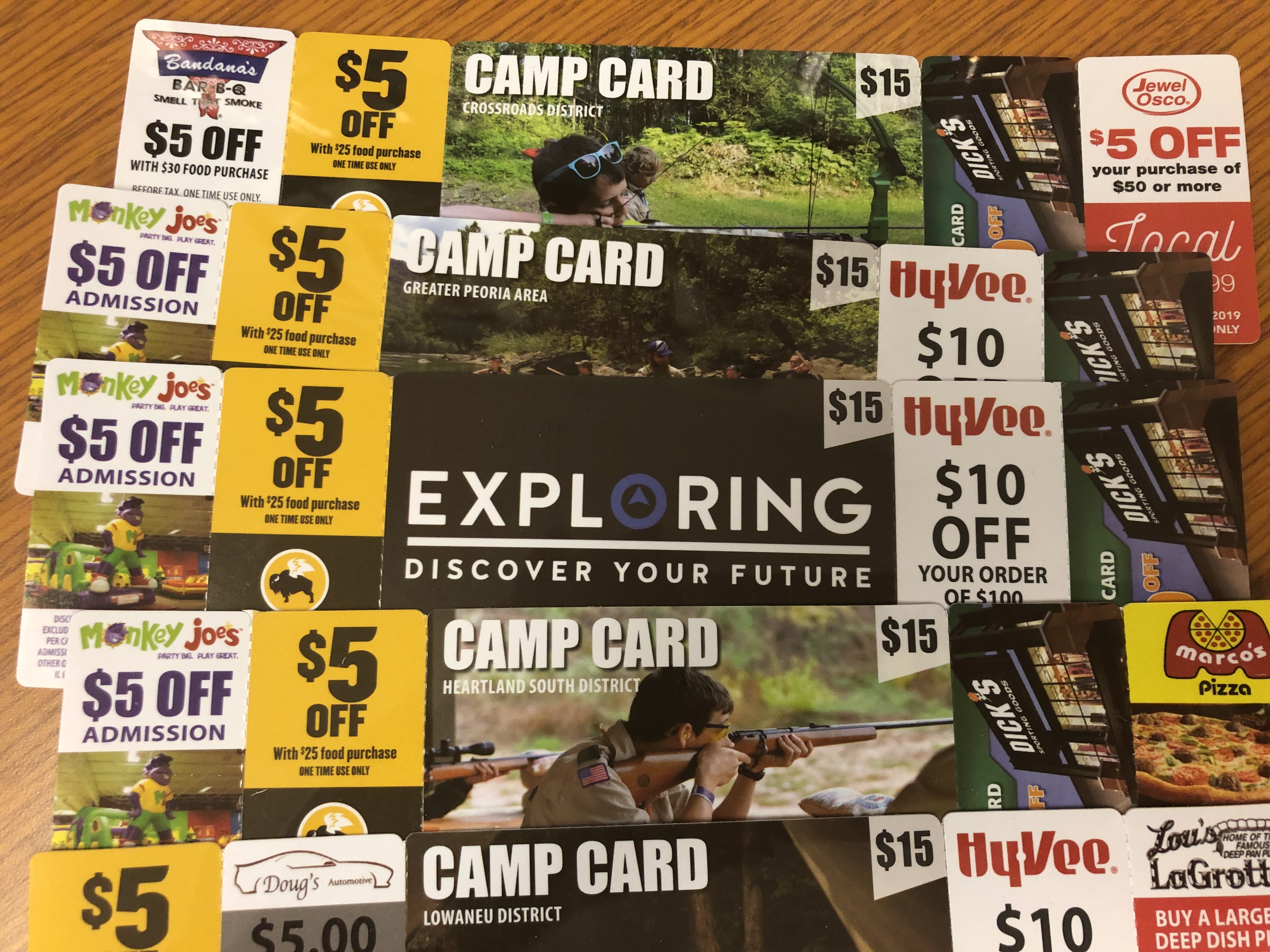 The 2019 Camp Card Program has come to an end
THANK YOU for your participation and CONGRATULATIONS on earning your way to Camp this summer!!!!
CONGRATULATIONS – To our TOP Selling Units!
ALL earned the $500 TOP Selling Unit Incentive award.
Crossroads – Pack 3957 – Selling 227 Camp Cards
Heartland – Troop 124 – Selling 181 Camp Cards
Lowaneu – Pack 3709 – Selling 160 Camp Cards
Wotamalo – Troop 206 – Selling 75 Camp Cards
*Winners sold 75 Camp Cards to qualify.
CONGRATULATIONS – To our Scout Incentive Winners!
ALL earning up to $250 towards any 2019 W. D. Boyce Summer Camp or National Youth Leadership Training (NYLT).
Crossroads – Parker H., Pack 3957 & Sloan S., Pack 3919
Heartland – Jude G., Pack 3056
Lowaneu – Mason K., Pack 3326 & Patrick K., Pack 3326
*Winners sold 25 Camp Cards to qualify.
Top 3 2019 Camp Card Program Details
62 Units Participated in the 2019 Camp Card Program
Over 3,400 Camp Cards were sold
Scouts and Units earned over $20,500 for 2019 Summer Camp Adventures
The Camp Card Program is a fundraising initiative designed to help Scouts earn their way to Scouting's various Summer Camp programs. Sales will run from Mid-February – May 2019.
IF you are a Unit who is interested in participating please check out the links below to GET STARTED!
REMINDER: All unsold, undamaged Camp Cards and Payment for sold Camp Cards is Due Friday, May 3, 2019.
*DO NOT MISS: The Scout Incentive Drawings at March and April District Roundtables. Check out the 2019 Camp Card Leaders' Guide below for more details. *
2019 Camp Card Commitment Form
2019 Camp Card Excel Tracker Template
2019 Camp Card Program Partners & Locations Lists
· Crossroad District Camp Card (Bloomington, Pontiac, Clinton, Lincoln, etc.)
· Heartland SOUTH District Camp Card (Bartonville, Canton, Havana, etc.)
· Lowaneu District Camp Card (Princeton, Peru, Ottawa, etc.)
· Greater Peoria Area District Camp Card (Peoria, Washington, Pekin, etc.)
· Explorer Card (Peoria, Washington, Pekin, etc.)
For 2019 Camp Card Program Questions:
Please Call: 309-828-6983
Email: Barbara.Murphy@Scouting.org