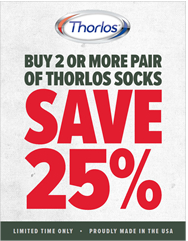 Thorlo Sock Promotion May 23rd through June 19th
Buy 2 or more pair and get 25% off
Discount applies to Thorlo socks only and cannot be combined with any other discounts.
See Sales Associate for further details.
W. D. Boyce Scout Shop
614 NE Madison Ave. Peoria, IL 61603
Monday-Wednesday & Friday 10:00 am - 6:00 pm
Closed Thursday
Saturday 9:00 am -1:00 pm
Closed Sunday
Ordering Information: (309) 497-1327
Check out the online catalog at ScoutShop.org
Some supplies are limited and selection varies online and at national Scout Shops.
Email: wdboycescoutshop@scouting.org
Deb Straker, Scout Shop Manager
Neva, Chase and Charlie, Sales Associate