2019 Multi-Week Adventure Camp
Calling all Tigers*, Bears, Wolves, and Webelos!
New this year! Join us for up to four weeks of Adventure Camp. Each week highlights a different theme and activities with new adventures all month long. Scouts may attend one week, two weeks, three weeks, or ALL four weeks of Camp!
Multi-Week Adventure Camp is a day camp open to boys and girls who are entering grades 1-5. W. D. Boyce Adventure Camps are primarily geared toward Cub Scouts, but we are not a closed organization camp. ANYONE is allowed to attend and learn the values and skills associated with the Boy Scouts of America. It is our pledge that every child who attends Adventure Camp will have a stronger character, fitness habits, and appreciation for citizenship.
Each camp location will host a variety of age appropriate program areas. Activities vary by location but may include archery, BB guns, Scout skills, fishing, swimming, games, and more! To find out more about the camp program, check out the Multi-Week Adventure Camp Program Guide at the bottom of the page.
Multi-Week Adventure Camp programs are facilitated by a trained camp staff to provide an exceptional experience for your children this summer. Leaders and parents are welcome to attend Adventure Camp to help at a specific activity or help walk the scouts to program areas. It is free for adult volunteers to attend camp and it is lots of fun! We appreciate you coming out to help and to see what your campers will be doing from day to day!
*TIGERS MUST BE ACCOMPANIED BY THEIR ADULT PARTNER THROUGHOUT THE DAY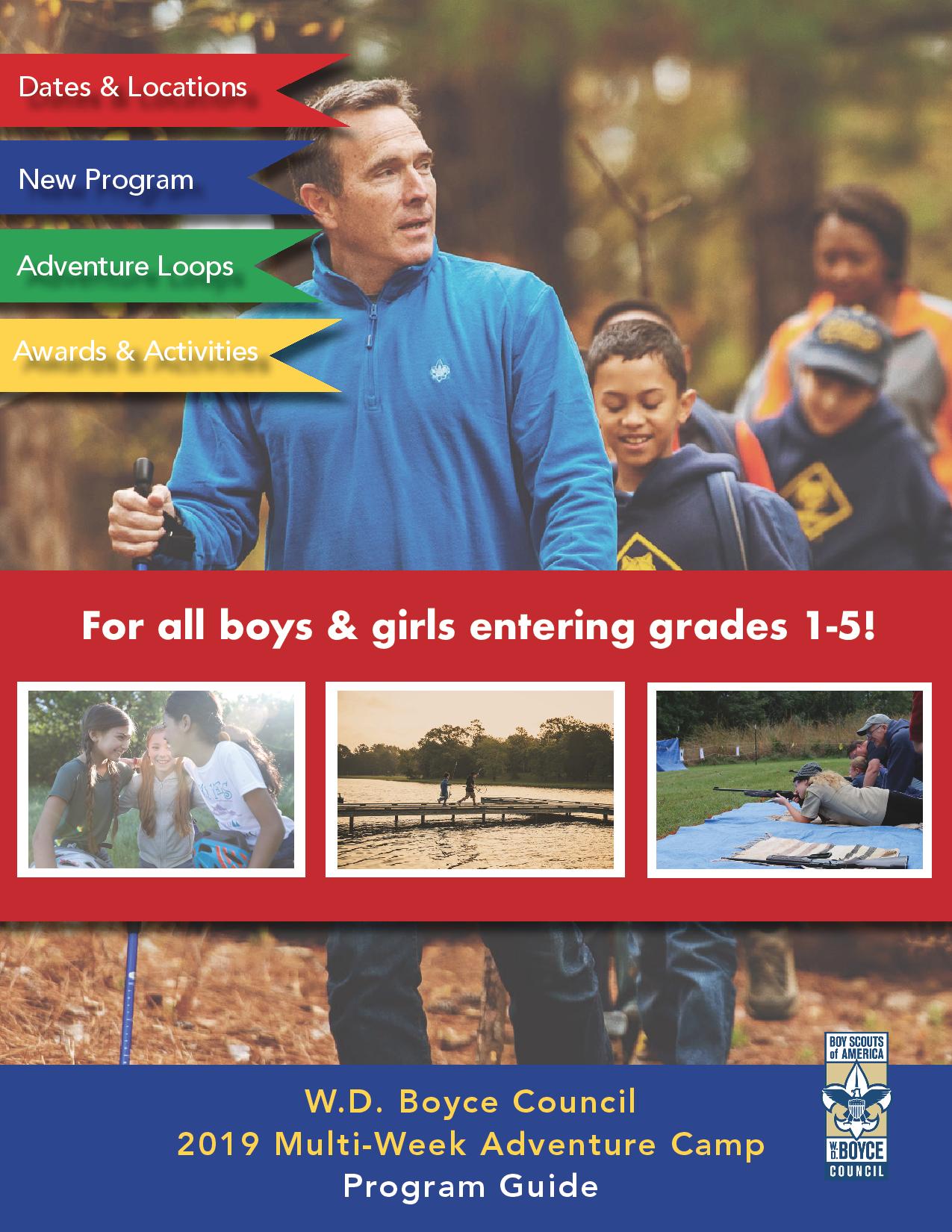 Click Here for the 2019 Multi-Week Adventure Camp Program Guide
LOCATIONS
Crossroads District

Bloomington

Heartland District

Chillicothe-Peoria

Wotamalo District

East Peoria-Morton

Week 1-4: Comlara Park, Bloomington, IL

Week 1 & 2: Camp Wokanda, Chillicothe, IL

Week 3 & 4: Sommer Park, Peoria, IL

Week 1 & 2: DaySpring United Methodist Church East Peoria, IL

Week 3 & 4: Kennel Lake, Morton, IL
DATES AND THEMES
Week 1: June 3rd- 7th: Superhero Academy
Join us for a week filled with super fun and superheroes! Create a costume, play lots of games, and compete in a Superhero training course. What superpowers will you discover this week?
Week 2: June 10th- 14th: Ultimate Explorer
Experience a fun and exciting outdoor adventure! Learn valuable survival skills all explorers need to know. Build shelters, track animals, tie knots, discover the great outdoors and become THE Ultimate Explorer!
Week 3: June 17th – 21st: Wild Wild Midwest
Saddle up, Buckaroos! There's a new Sheriff in town! Help him round up bandits, pan for gold, and discover the Wild Wild West in your own backyard. It's bound to be rootin' scootin' good time!
Week 4: June 24th-28th: MACH1- Multi-Adventure Challenge
Attention courageous campers! Every day of MACH1 week challenges you with non-stop activities and events. Connect with friends as you strategize and compete in sports, build stomp rockets, conquer a ninja warrior course, and more. Are you ready? Grab a friend and let the games begin!
Click HERE to register for all locations
---
Volunteers
It is free to attend camp as an Adult Volunteer and it is lots of fun! If you are a parent, guardian, or trained adult and would like to volunteer, click HERE to fill out the volunteer form.
*Tigers (boys and girls going into 1st grade) must be accompanied by their adult partner throughout the day.
Pricing
Early Bird Rate (register by May 3rd): $160 per week. Enroll in all four weeks for a price of $150 per week.
Regular Rate (Register after May 3rd): $180 per week.
Multi-Week Adventure Camp Hours
Multi-Week Adventure Camp hours are Monday-Friday 8:30 am- 4:15 pm. A more detailed schedule such as pick-up, drop-off, and lunch procedures will be included in the program guide.
Extended Care and Transportation Option
Extended Care is a program designed for parents who have to work outside the normal day camp hours. Rather than make additional child care arrangements or miss out on camp, let the well-trained staff supervise your kids with hours of extra program!
The cost for Extended Care is $25 per child for each week and is NOT included in the registration fee for Multi-Week Adventure Camp. Extended care is offered at each location Monday-Friday starting at 7:30am with last pick up at 5:30pm. Parents or adults picking their child up must arrive with a photo ID and be listed on the child's health form as a person allowed for pickup.
In the Bloomington area, there will be a transportation option. A bus to and from Comlara Park will pick-up and drop-off your children at Eastland Mall by Applebees. The bus leaves at 7:30am and will arrive back at Eastland Mall at 5:20pm. There will be an additional fee of $25 per child per week. The bus will be supervised by trained staff members as well as any adult volunteers. Bus drop-off and pick-up will be the same hours as Extended Care with drop-off being at 7:30am and last pick-up at 5:30pm. More information is available in the Program Guide.
Health Forms
All campers must turn in completed parts A&B of the Annual Health and Medical Record and present a copy of their insurance card to participate in Adventure Camp. Health Forms should be turned in or mailed to the Boy Scout Service Center at least two weeks before the start of camp. A link to the Health Form can be found below.
Questions
If you have any questions, please contact the Erin Smith at the Peoria Scout Service Center (309) 673-6136.
Forms
**As we approach 2019 Adventure Camps, keep checking for updates.**
2019 Multi-Week Adventure Camp Program Guide