Not in our Council? We can ship to your home for only $15/ kit!
Summer Camp 2020
Due to the on going COVID-19 situation, all W. D. Boyce IN PERSON day camps have been cancelled. View the announcement HERE. However, we have an alternative day camp plan listed below. We are working hard to ensure Cub Scouts have a Scouting experience over the summer.
"A week of camp life is worth six months of theoretical teaching in the meeting room." - Lord Baden Powell
**MUST ORDER BY JUNE 14th**
NEW- ADVENTURE CAMP AT HOME FAQs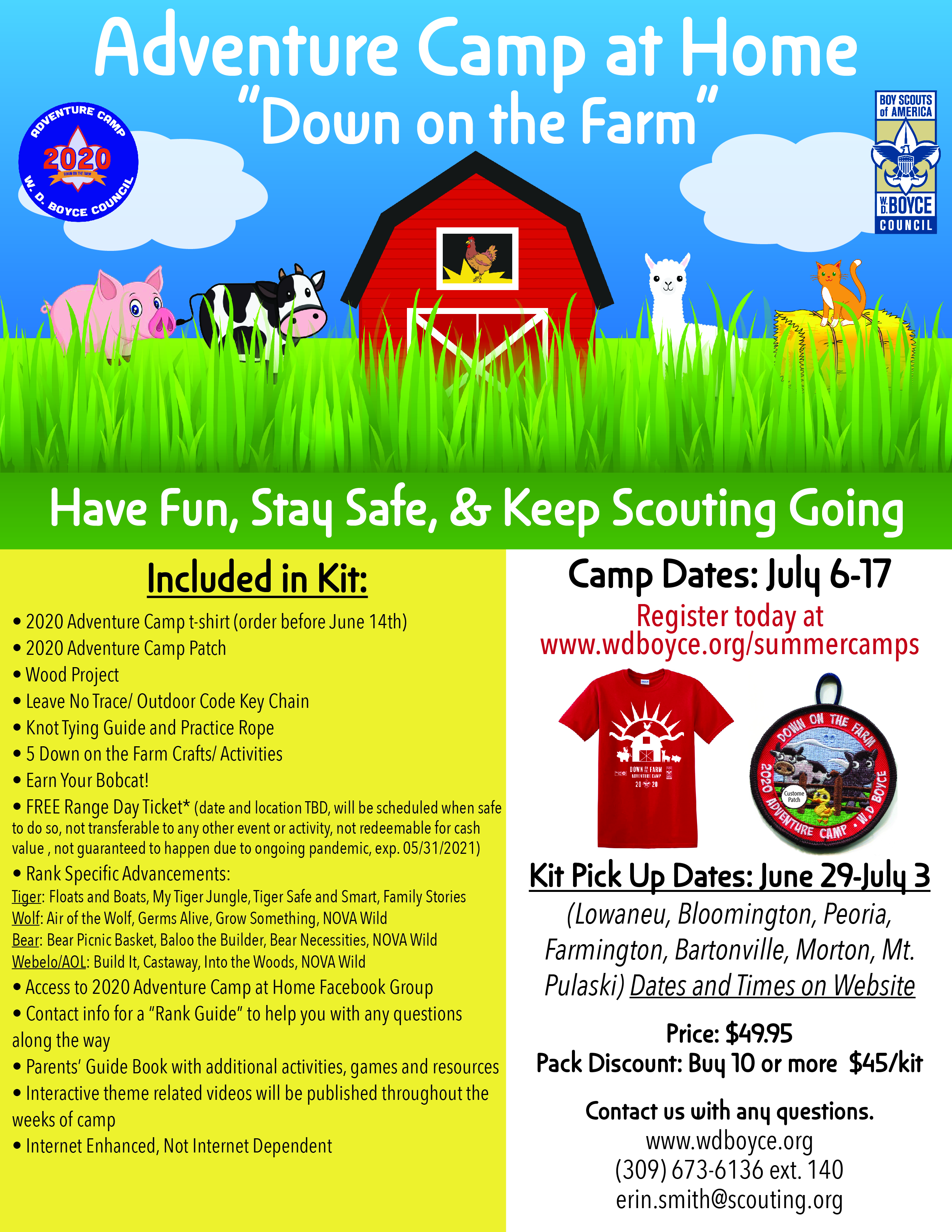 Kit Pick Up Locations: These will be drive through only or in outside locations where we will be social distancing. Do not enter the buildings. Volunteers and staff with masks and gloves will assist with loading boxes. Due to these circumstances, please plan accordingly as it may take some time to safely assist all participants. It would be beneficial if one leader from each den or pack came to pick up all the boxes for their unit and then distributed them to their parents.
-Farmington YMCA Monday, June 29 9am-12pm
-Peoria Scout Service Center Tuesday, June 30 8am-12pm
-Bloomington Scout Service Center Tuesday,June 30 3pm-6pm
-Bartonville Alpha Park Wednesday, July 1 3pm-6pm
- Pontiac Wednesday, July 1 Time and Location TBD
- Bloomington Scout Service Center Thursday, July 2 8am-12pm
-Peoria Scout Service Center Thursday, July 2 3pm-6pm
-Ottawa TDB
-Mt. Pulaski Martin Family Farm Tuesday, June 30 6pm-7:30pm
- Peru- St. Bede Academy Tuesday, June 30 3pm-7pm
Note: After completing activities, advancements should be reported to your Cubmaster or Pack Advancement Committee Member. The pack is responsible for providing appropriate insignia.
Earlybird Rates and Refund Policy
For everyone who has already paid for traditional and multi-week day camps, refunds will begin to be issued on June 1, 2020. Checks will be mailed to the home of the purchaser. For any purchases of an alternative adventure camp experience, the council refund policy will apply. W. D. Boyce Refund Policy
---