Community Service
Program planning is a simple but critical part of your Pack, Troop, Crew, or Post's success. Throughout the process
remember your goal is to deliver a high quality program to each Scout and their family. It should be fun, exciting,
and focused on the purposes of Scouting. Setting an annual program plan provides direction and a sense of satisfaction and a feeling of accomplishment in a job well done. Planning also makes the best possible use of your valuable volunteer time.
---
ScoutSweep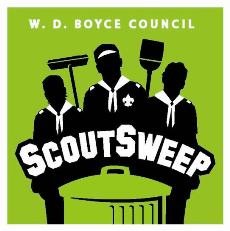 ScoutSweep is an opportunity for Scouts of all ages to learn
what it means to keep our communities clean and why littering
is harmful to the environment.
Make a commitment as a Scouting unit to spend two hours
cleaning up your local park, school, neighboorhood, OR partner
with your city or town in their clean-up.
For more information about ScoutSweep and to find out how
your Scouts can earn the ScoutSweep patch, CLICK HERE!
---
Scouts CAN!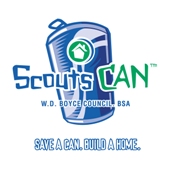 The W. D. Boyce Council, Boy Scouts of America and Habitat for Humanity
teamed up to collect 3.5 million aluminum cans. The money raised - over $50,000 -
has built one full house for Habitat for Humanity while supplying several other
homes with funds to complete their builds.
For more information about the Scouts CAN! project, CLICK HERE!